Mira Max Starter Kit
Includes Fertility MAX Wands (LH+E3G+PdG)
No more guessing. Monitor your LH, E3G, and PdG at home to make confident decisions about your fertility. The Mira Max Starter Kit is an all-around solution for hormone tracking.
Predict & confirm ovulation
Chart your 6-day fertile window
See numeric hormone scores daily
Lab-grade technology—without going to the lab
24/7 customer support
FDA-listed
Success Stories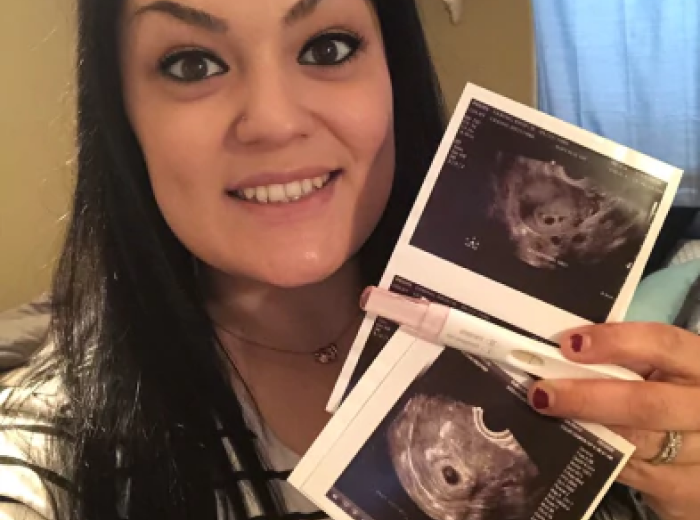 Thanks to Mira Fertility, Kristie found out that she was ovulating almost immediately after her period
Kristie
Mira was able to provide Nicole with information and answers that other fertility kits and even doctors could not.
Nicole
After $20K+ spent, 4 IUIs, 50 pounds lost, and PCOS, it took 14 pregnancy tests for Octavia to believe she was finally pregnant!
Octavia
Get free shipping to anywhere in the world
Frequently Bought Together
60,000 people
have chosen the Mira Analyzer to guide their fertility journey
Our scientists designed the Mira Analyzer with groundbreaking technology to offer the
highest accuracy on the market.
Step 1
Dip the test wand into urine for 10-20 seconds. Expect to test 10-20 times per cycle. This will depend on your body's unique rhythm.
Step 2
Insert the wand into the Mira Analyzer. Your fertility hormone concentration results will automatically sync with the Mira App after approximately 21 minutes of analysis.
Step 3
The Mira App's advanced algorithm will provide highly accurate and personalized information about your fertility window.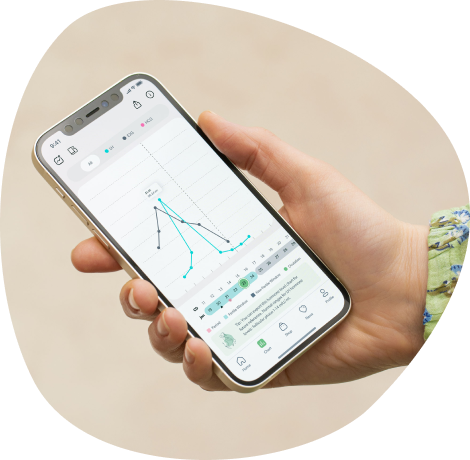 Meet our medical advisors
Scientists and experts trust Mira — and they are here to support you on your journey with accurate information and solutions.
Gary S. Nakhuda, MD
OB/GYN / Reproductive Endocrinology, FACOG. Research collaborator at Mira
Meir Olcha, MD
OB/GYN / Reproductive Endocrinology, FACOG, Medical advisor and partner at Mira
Katerina Shkodzik, MD
OB/GYN / Reproductive Endocrinology, FACOG, Medical advisor and partner at Mira
Dr. Li-Shei Lin.
OB/GYN and Reproductive Endocrinologist, Clinical Professor of Reproductive Medicine. Medical Advisor at Mira.
Thomas Bouchard, MD.
The University of Calgary, Department of Family Medicine. Research collaborator at Mira
Dr. Tara Brandner
Doctorate Nurse Practitioner, FNP-C & Fertility Coach
Shawana S. Moore
DNP, APRN, WHNP-BC, PNAP. President/Chair, National Association of Nurse Practitioners in Women's Health (NPWH)
Sarah Jane Sandy
Functional Nutrition Therapist
Rosemary MacKenzie
BSN, RN, CEN, MMCP, NFP Instructor at Mira
Mira is trusted by fertility clinics
Large and innovative clinics around the world choose Mira as an accurate, reliable, and consistent remote testing technology.
Support your fertility plans with science
Reach your fertility goals faster. Say goodbye to guesswork and hello to confident decisions.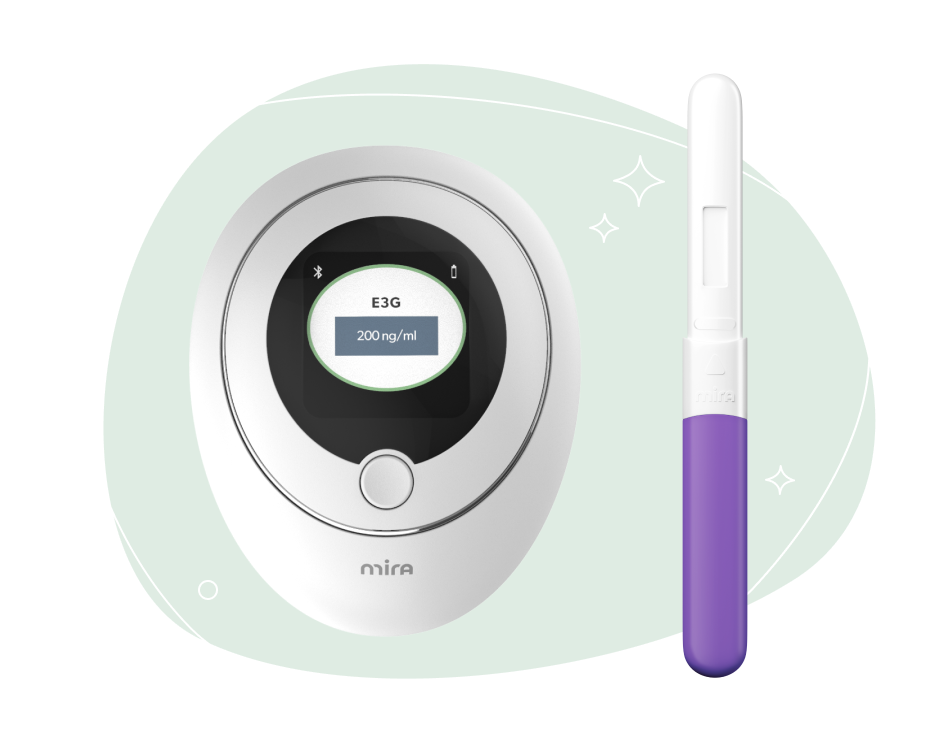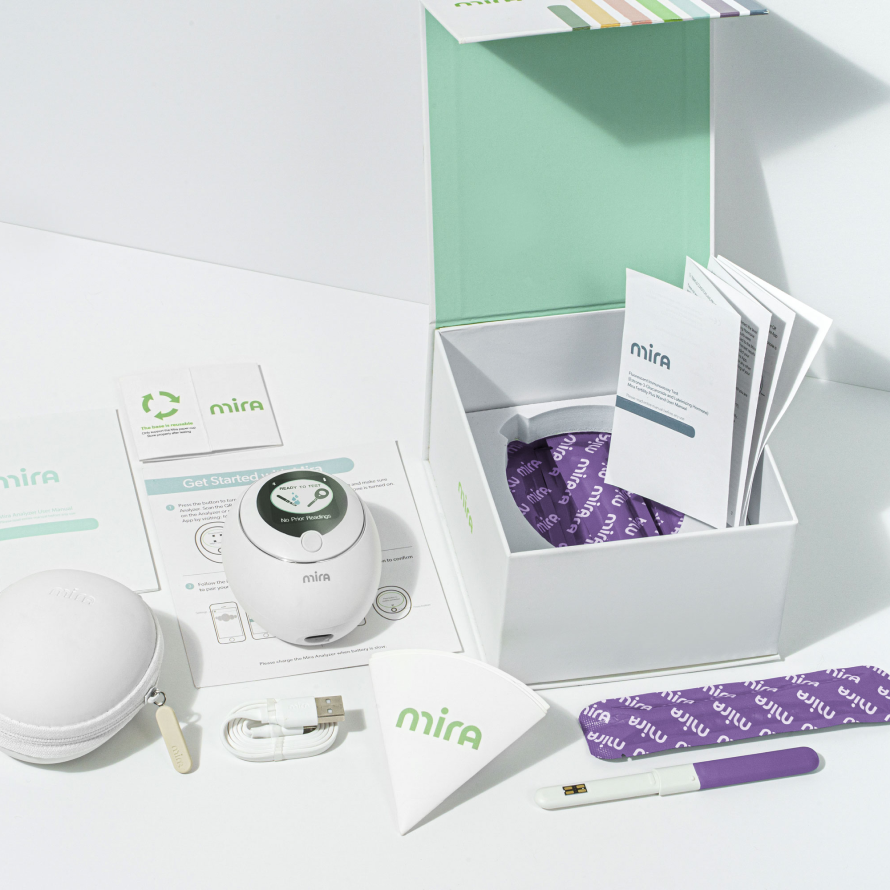 Included with your Confirm Bundle kit:
1
Mira Fertility Analyzer Box
1 Mira Fertility Analyzer Box
Mira Analyzer
Deluxe Mira Carrying Pouch
Charging Cable
10 Single-use Estradiol Metabolite (E3G) + Luteinizing Hormone (LH) + Pregnanediol-3-Glucuronide (PdG) Test Wands
1 Silicone Cup
Quickstart Guide: Step-by-step instructions to get started with Mira
Sync The Mira Analyzer to the Mira App, compatible with all iPhone devices (iOS 10.0 and up) and Android devices (Android 5.0 and up)
Requires Bluetooth
The Company can issue a full refund if the Buyer requests a refund before the package ships. However, since most Mira products are time sensitive, the orders are typically processed quickly. Therefore, a fast turnaround occurs between placing the order and preparing the fulfillment.
The Buyer should reach out ASAP if they would like to cancel their order.
If the Buyer wants to return the product after it is shipped, the Buyer must keep it unopened, unused, and original. Unopened means the seals on the product box much be intact. And the Buyer should store the product in a dry environment between 4 ° to 30 °C (39 ° to 86 °F) and keep it away from direct sunlight.
The Buyer must contact the Mira Support team within 20 days after the product is delivered. Shipping and handling charges from the original order, including VAT or other customs fees, are non-refundable. If the Buyer requests a paid return label, the Company will deduct 15% of the product's original price (available for the US only).
For non-US orders, the Buyer is responsible for shipping back the product.
Please Note: The Company cannot accept product returns based on the following:
If it has been 20 days past the product's delivery.
If the seal is broken.
If the product has been used or tampered with.
If the product does not appear to be in its original condition.
The Buyer may cancel their subscription at any time. Please read this article carefully for more information on managing subscriptions. If the Buyer wants the Company to cancel the subscription, the Buyer must send the Company an explicit request at least 48 hours before the next order process date.
Please Note: Snoozing the subscription or changing the next order date will not cancel the subscription.
The Mira Analyzer includes a one-year limited warranty. This limited warranty applies for a period of one (1) year from the date of purchase on your receipt. Mira requires the original receipt to determine the warranty period. During the warranty period, Mira will either repair or replace, at its own discretion, any defective Product or part free of charge.
We ship worldwide!
Orders that qualify for free shipping:
Orders over $148 in equivalent local currency in the US, Hong Kong, Singapore
C$198 or over in Canada
A$258 or over in Australia and New Zealand
£148 or over in the UK
€148 or over in the EU
Shipping times:
On average, US, UK, and AU orders arrive within 3-6 business days. Shipping to other countries may take longer, especially due to high demand. Please refer to the shipping time frame on the checkout page for more information.
Questions? Contact us at support@miracare.com